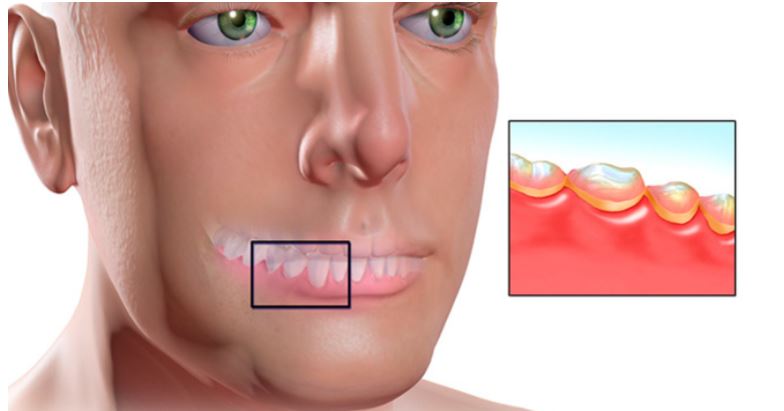 Gingivitas yra dantenų uždegimas. Liga pasitaiko gana dažnai.
Priežastys
Dantenų uždegimo priežastis gali būti tiek vietiniai (dažniau), tiek bendrieji patogeneziniai veiksniai.
Vietiniai veiksniai:
Apnašų kaupimasis. Pasitaiko esant nepakankamai burnos higienai (netaisyklingas dantų valymas, dantų siūlų nepaisymas ir kt.);
Burnos ertmės prieangio struktūros pažeidimas;
Dentofacialinės anomalijos ir suprakontaktai.
Be to, dantenų uždegimą gali sukelti herpeso virusas, vitaminų trūkumas ir kt.
Kas vyksta?
Uždegiminis procesas dantenų audinyje iš pradžių vyksta dėl masyvių mikrobų sankaupų ir jų išskiriamų fermentų bei toksinų. Nors uždegimas pasireiškia tik dantenomis ir pagrindiniai audiniai nėra paveikti, jie kalba apie dantenų uždegimą. Dalyvaujant periodonto procese, diagnozuojamas periodontitas.
Dantenų uždegimas pasireiškia paūmėjimo ir remisijos laikotarpiais, o skirtingiems pacientams jo aktyvumas skiriasi. Dantenų uždegimo eigą ir pobūdį pirmiausia lemia bendro žmogaus imuniteto būklė.
Sergant dantenų uždegimu, pacientai dažniausiai jaudinasi dėl dantenų kraujavimo, ypač valydami dantis. Be to, gali atsirasti dantenų skausmas, paraudimas ir patinimas. Jei gingivitas yra herpetinis, burnoje atsiranda baltos arba geltonos opos.
Diagnostika ir gydymas
Gingivito diagnozę paprastai nustato odontologas, remdamasis paciento apžiūra. Siauresnis dantenų uždegimo diagnostikos ir gydymo specialistas yra periodontologas.
Kadangi sergant gingivitu, uždegimi tik paviršiniai audiniai, kurie lengvai prieinami terapinėms intervencijoms, todėl šios ligos gydymas yra labai efektyvus.
Pagrindinis dantenų uždegimo gydymo ir profilaktikos metodas yra kruopšti burnos higiena naudojant įprastus dantų šepetėlius ir pastas. Yra specialių tepalų, kurie palengvina dantenų uždegimą. Gydytojas taip pat gali skirti antimikrobinius skalavimus, tokius kaip chlorheksidinas.
Prevencija
Dantų ir dantenų ligų profilaktika turėtų būti pradėta vaikystėje, pasirodžius pirmiesiems pieniniams dantims. Pamažu reikia išmokyti vaiką reguliariai valytis dantis savarankiškai – du kartus per dieną. Bendras dantų valymo laikas – išorėje ir viduje – turėtų būti mažiausiai trys minutės. Be to, tarpdančius būtina gydyti siūlu (dantų siūlu).
Be kasdienio dantų valymo, periodontologas turi reguliariai (kartą per pusmetį ar metus) pašalinti dantų akmenis.
Šaltiniai:
Balan P., Chong YS., Lin Q., Lim TK., Suriyanarayanan T., Udawatte NS., Wong ML., Lopez V., He HG., Seneviratne CJ. Salivary Proteomic Profiling Identifies Role of Neutrophil Extracellular Traps Formation in Pregnancy Gingivitis. // Immunol Invest – 2021 – Vol – NNULL – p.1-17; PMID:33902370
Scannapieco FA., Dongari-Bagtzoglou A. Dysbiosis revisited. Understanding the role of the oral microbiome in the pathogenesis of gingivitis and periodontitis: a critical assessment. // J Periodontol – 2021 – Vol – NNULL – p.; PMID:33902163
Genet L., Jalladaud M., Seror R., Gosset M. Plasma cell gingivitis, an underestimated condition in patients with Sjögren's syndrome? // Clin Exp Rheumatol – 2021 – Vol – NNULL – p.; PMID:33886456
Wirth R., Maróti G., Lipták L., Mester M., Al Ayoubi A., Pap B., Madléna M., Minárovits J., Kovács KL. Microbiomes in supragingival biofilms and saliva of adolescents with gingivitis and gingival health. // Oral Dis – 2021 – Vol – NNULL – p.; PMID:33876475
Krikheli NI., Pustovoit EV., Zhuravleva EG. [The effectiveness of parodontax toothpaste in the complex treatment of chronic gingivitis]. // Stomatologiia (Mosk) – 2021 – Vol100 – N2 – p.50-54; PMID:33874661
Eltay EG., Gismalla BG., Mukhtar MM., Awadelkarim MOA. Punica granatum peel extract as adjunct irrigation to nonsurgical treatment of chronic gingivitis. // Complement Ther Clin Pract – 2021 – Vol43 – NNULL – p.101383; PMID:33862350
Golshah A., Mirzaeei S., Nikkerdar N., Ghorbani F. Gingivitis Effectiveness of Emulgel Containing 2% Resveratrol in Orthodontic Patients: An 8-Week Randomized Clinical Trial. // Int J Dent – 2021 – Vol2021 – NNULL – p.6615900; PMID:33859693
Sheshukova OV., Bauman SS., Avetikov DS., Stavitskiy SO. THE BALANCE OF IL-1β, IL-10 AND THE LEVEL OF IKBα EXPRESSION IN CHILDREN WITH CHRONIC CATARRHAL GINGIVITIS AND GASTRODUODENITIS. // Wiad Lek – 2021 – Vol74 – N1 – p.90-93; PMID:33851594
Polishchuk TV., Lokhmatova NM., Sheshukova OV., Tkachenko IM., Bauman SS., Maksymenko AI. INFLUENCE OF MICROBIOTA ON THE CLINICAL AND IMMUNO-HISTOCHEMICAL CHARACTERISTICS OF CHRONIC GENERALIZED CATARRHAL GINGIVITIS IN CHILDREN. // Wiad Lek – 2021 – Vol74 – N1 – p.39-42; PMID:33851584
Mishra P., Bhargava A., Nigam-Gupta N. A pilot study to evaluate the effectiveness of adjunctive use of two antimicrobial topical gels in chronic gingivitis. // J Clin Exp Dent – 2021 – Vol13 – N4 – p.e342-e349; PMID:33841732